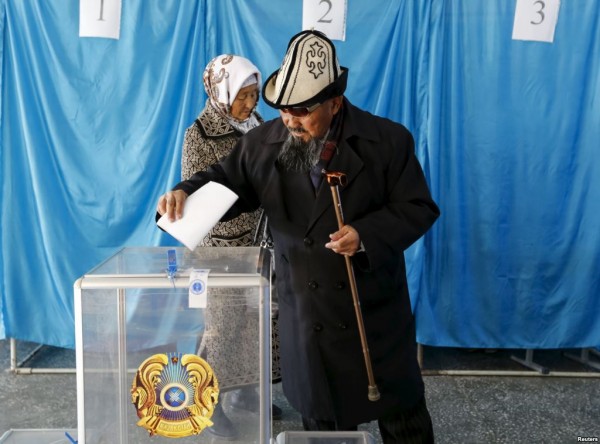 Ruling party won parliamentary elections in Kazakhstan
Monitoring Desk: As expected, ruling party of President Nazarbaev has won parliamentary elections in Kazakhstan, indicates Exit polls.
As many as 234 candidates from the following six parties were running for the parliament including 127 of ruling party Nur Otan, 35 from Ak Zhol , 19 from Aul, 22 from  the Communist People's Party of Kazakhstan, 23 from the Nationwide Social Democratic Party  and eight from Birlik Party.
A total of 98 MPs are to be elected from these parties. Nine more MPs are to be elected from Kazakhstan's Assembly of People during a voting at the Assembly.
As many as 10,825 candidates are running for seats in the maslikhats. On average, three candidates are running for one maslikhat member mandate.
A total of 955 observers from other countries and international organizations, and foreign media representatives will work in Kazakhstan during the elections.
The Central Election Commission announced that voter turnout on March 20 was at least 77 percent.
Nazarbaev's Nur Otan party faced no real competition for places in the 107-seat Mazhilis, the lower house of parliament.
In addition to Nur Otan, exit polls suggested two other parties allied with Nazarbaev each received just over 7 percent of the vote — the minimum required to win party seats through proportional representation. They were the pro-government Communist People's Party and Ak Zhol.
Of the three remaining parties, the agrarian party Auyl and environmentalists in Birlik are loyal to Nazarbaev.
The Nationwide Social Democratic Party was positioned as the opposition.
Attention was focused on the president's daughter Darigha Nazarbaeva, who is deputy prime minister and also on the Nur Otan party list as a candidate. If she leaves the government, she could become the speaker of the lower house, which would solidify her position as a potential presidential successor to her 75-year-old father.