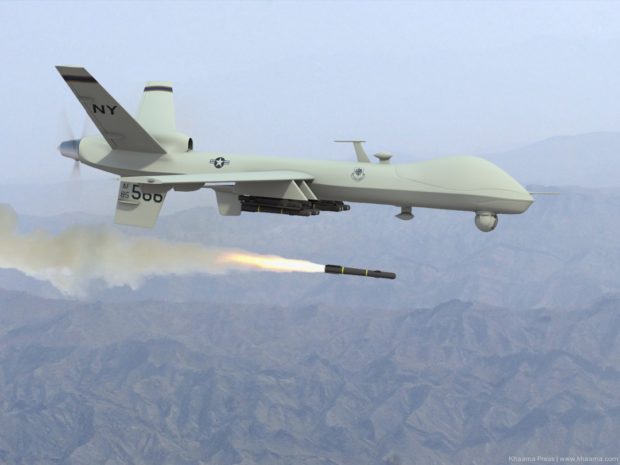 Pakistan firms to shoot down US drone
Islamabad, Pakistan Islamabad has conveyed Washington that it would shoot down US drone in future if trespassed into skies of Pakistan.
Sources claim that message was sent to US from civil as well as military leaderships of Pakistan.
Diplomatic circles in Islamabad believe that Pakistan is stoutly feeling that he has been betrayed again by United States who is not respecting rules of relationship. Pakistan had such feelings many times before as well including that point of time when United States left alone Pakistan to face the consequences of US-sponsored Afghan Jihad in early 90s.
Pak-US relations are exceptional as Pakistan always goes back to the folds of United State after crying over deception and betrayal. This is the beauty of Pak-US relations that both partners accept each other after every separation.
Pakistan considers itself as a sovereign country whose sovereignty has again been threaten and trespassed by US by killing Ameer (Chief) of Afghan Taliban Mullah Mansur Akhtar in a drone strike in the province of Baluchistan. This recent drone strike inside Pakistani territory was one of the 397 strikes US conducted inside Pakistan in last one decade. After every strike Pakistan condemned US strikes but both partners keep walking hands in hands again. Pakistan does not believe that presence of Chief of Afghan Taliban Mullah Mansur Akhtar in Pakistan on fake document was a breach of its sovereignty but the strike of US drone was.
Pakistan faced almost same situation when world wanted terrorist Osama Bin Laden (OBL) was killed inside Pakistan in Abbotabad city in a full- fledged US marine operation. Even that time Pakistan did not believe that presence of OBL in Pakistan on fake identity was a breach of its sovereignty but US action was. Dr Shakeel Afridi who was instrumental to find location of OBL was arrested by Pakistan and he is still in jail and Pakistan has refused to hand him over to United States.
Russia and China have also condemned drone strikes inside Pakistan and Islamabad has moved to international Human Rights forums at UN level against recent drone strike.
Diplomatic circles in Islamabad are keenly watching new phase of Pak-US relations and sending reports to their countries that things look serious this time because military leadership of Pakistan has reportedly given a tough time to civilian leadership that refrained from showing stiff response against United States after the killing of Chief of Afghan Taliban Mullah Mansur Akhtar in a drone strike in Baluchistan province.