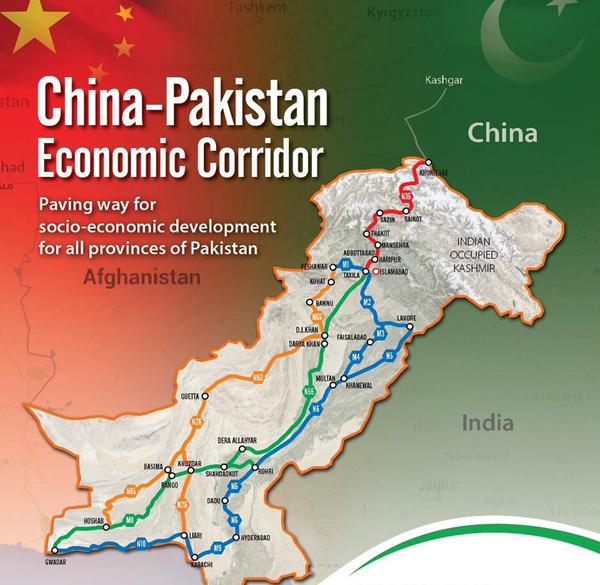 By Agha Iqrar Haroon
The Foreign Office of Pakistan has responded to claims of United States that China Pakistan Economic Corridor (CPEC) is a controversial project and passing through a disputed territory of Kashmir.
Foreign Office of Pakistan said on Saturday that CPEC is a development and connectivity project for the betterment of the people in the region and beyond.
Statement says that the international community should focus on human rights violations and heinous crimes committed by Indian occupation forces in Indian occupied Kashmir. As for the Jammu & Kashmir dispute, efforts need to be made to implement UN Security Council resolutions on Jammu & Kashmir, that call for a UN supervised plebiscite to enable Kashmiris to exercise their right to self determination.
It is pertinent to mention that $56 billion CPEC passes through Pakistan's northern areas, which India claims is part of the disputed Jammu and Kashmir territory. Interestingly, India did not oppose construction of Karakuram Highway (KKH) that was completed in early 1980s and CPEC is actually expansion of passages of KKH. India in 1964 accepted Azad Kashmir as Pakistan-Administrative Territory when it signed Indus Water Treaty. India also did not oppose when Pakistan constructed Mangla Dam in Azad Kashmir in early 1960. Why does India oppose CPEC now? This question has multiple answers.
China has also rejected the objections raised by the United States over the CPEC saying that One Belt, One Road (OBOR) initiative is (was) backed by the UN.
A statement issued by Chinese Foreign Ministry states:
"We have repeatedly reiterated that CPEC is an economic cooperation initiative that is not directed against third parties and has nothing to do with territorial sovereignty disputes and does not affect China's principled stance on the Kashmir issue".
Why CPEC is under attack by India and why United States is not comfortable with this huge project?, one can find answer if he/she has deep idea about this immense project.
CPEC is a flagship project of China's "One Belt One Road" (OBOR) initiative. OBOR will be critical bridge that will connect China with its neighbours in Central Asia and South Asia but will go as far as Middle East and Africa.
By linking China with the Arabian Sea and the Persian Gulf through Pakistan, CPEC will expand trade potential and enhance energy and security presence of China not only in the region but as far as Africa.
CPEC can be considered as a package that will boost Chinese as well as Pakistani economies by providing transport and energy: roads, bridges, gas pipelines, ports, railways, energy plants to Pakistan and a deep regional security mechanism to China while overseeing and manage safekeeping of Chinese assets. Per unit cost of every product China exports today will drastically go down when freight cost will go down by adopting shortest possible route for export transportation through CPEC linkages.
Proposed by Chinese President Xi in 2013, the "One Belt One Road" (OBOR) initiative (program) is an estimated $5 trillion infrastructure spreading over 60-plus countries across Asia, the Middle East, Europe and Africa.
Chinese President considers this initiative as a "project of the century" and a biggest narrative that China is setting as an example in globalization by filling the gaps left by the US policy makers.
The "One Belt" part of it refers to the Silk Road Economic Belt while the "One Road" refers to the 21st-century Maritime Silk Road— a revival of the ancient Silk Road trading routes.
Chinese Think Tanks consider OBOR and its foremost component —CPEC as "Builder of a New Civilization" along the One Belt One Road.
For making CPEC a success, China and Pakistan have agreed to promote a 1+4" pattern of economic cooperation, featuring a central role of the CPEC and four key areas including the Gwadar port, energy, transportation infrastructure and industrial cooperation (reference from CPEC documents published by Chinese Government).
In the medium-to-long term, both sides will expand the cooperation fields to financial services, science and technology, tourism, education, poverty elimination and city planning.
The CPEC shall essentially follow the North-south corridor in Pakistan and the existing road network shall be used in the beginning, developing the missing connections first. Two major CPEC transportation projects are under construction including expansion of Karakuram Highway (KKH) Phase-II (Havelian-Thakot section) and Peshawar-Karachi Motorway (Sukkur-Multan section). At the same time, Railway Line ML1 (Peshawar-Karachi) up-gradation project will start in year 2018.
CPEC consists of "one belt, three passages, two axes and five functional zones" in terms of its spatial layout. "One Belt" refers to the belt which consists of zone area of the CPEC and the economic cluster area of industries, population and cities. It runs from Kashgar to Karachi and Gwadar on the Arabian Sea. "Three Passages" refers to the eastern, central and western routes. Eastern Route consists of railway-highway network from Islamabad to Karachi via Lahore, Faisalabad, Multan, Sukkur and Hyderabad and is considered as the main traffic artery of the corridor. Central Route starts from Islamabad to Karachi via Jacobabad and Khuzdar through N25 or to Gwadar through M8. Western Route starts from Islamabad to Gwadar via D.I.Khan, Quetta, Basima and Hoshab. "Two Axes" refers to two east-west development axes in the corridor: Lahore – Islamabad – Peshawar" and "Karachi-Gwadar" development axes (reference from CPEC documents published by Pakistan Government)..
Official documents of Government of Pakistan about CPEC project indicates that CPEC has the potential enhance economic growth of Pakistan by removing key infrastructural bottlenecks (energy, roads, highways, railways etc.), shaping new industry clusters, improving living standards and social stability and promoting regional connectivity.
The CPEC is expected to fuel economic growth of Pakistan by adding 2.0 percentage point to its growth between 2018 and 2022; another 1.5 percentage point between 2022 and 2030. It is likely to create 700,000 to 1.0 million new jobs. The length of newly built or upgraded roads and railways would reach 3871 km and 1529km, respectively. Power generated by newly built sources will reach 19.785 million KW, and length of optical fiber Cable will reach 2084km (reference from CPEC documents published by Chinese Government).
Available design of CPEC indicates that garment and textile industry will be developed in Kashgar (China) Economic Development Zone through importing raw materials from Pakistan. Textile and Garment Centers or EPZ will be built in Lahore and Karachi. To enrich cotton textile varieties, Pakistan is considering importing high quality top grade cotton yarn from Uzbekistan.
Gwadar Port infrastructure will be improved for fishery production. Epidemic disease prevention and control related to agricultural produce would be developed in Faisalabad and Lahore. Coastal tourism development has enormous potential under CPEC. Coastal tour line is Keti Bundar-Karachi-Somiani-Ormara-Gwadar-Jiwani. Landmark hotels, golf courses, high-end nursing homes, race courses and a hot air balloon facility along coastal city tourism zone are mostly likely to be built.
Financial impacts:
Chinese investments spreading over 15 years having a total outlay of up to $46 billion: $35 billion on the energy sector in the mode of IPPs (independent Power Producers) and $ 11 billion for infrastructure development; like industrial zones roads and railways etc.
Construction of 3,218 km long route from Chinese province of Kashgar to Pakistani port of Gawadar will connects China, Tajikistan (Central Asia) with Gawadar Port. Through this shorter route, Chinese goods will have easier access to the Middle East, Africa and beyond. Currently these goods have to travel a long distance from the South China Sea through the Strait of Malacca to reach the Gulf. Almost 80% of the China's oil is currently transported from Strait of Malacca to Shanghai, (distance is almost 16,000 km and takes 2-3 months), with Gwadar port becoming operational, the distance would reduce to less than 5,000 km. This would be a great strategic benefit for China. On the other hand, it would help Pakistan to counter Indian influence in the region, position itself as a major transit point connecting Eurasian region with South Asia and South East Asia.
Presently China is some 13,000 Km from Persian Gulf with a long shipping time of about 45 days. CPEC will shrink this distance to merely 2500 Km (80% reduction). The shipping time will reduce to 10 days (78% reduction). Bulk of China's trade is through the narrow sea channel of the Strait of Malacca. Top security analysts are of the opinion that in the event of a future war in Asia, United States' Navy can block the Strait of Malacca which will suffocate China's trade route. CPEC, besides providing an alternate route, will reduce the shipping time, from China to Europe, from 45 days 10 days.
The largest part of the project would provide electricity to Pakistan. The plans envisages at adding 10,400 megawatts of electricity at a cost of $15.5 billion by 2018. And after 2018 further 6,600 megawatts, at an additional cost of $18.3 billion, will be added which would double Pakistan's current electricity output.
Gwadar port, the South most point of CPEC has total traffic of 0.5 million tonnes of Cargo today. But by 2018 it is expected to handle 1.0 million tonnes of Cargo. When completed and fully functional, it will handle 300-400 million tonnes of cargo per annum as against India's total port capacity to handle 500 million tonnes of cargo. The Long Beach Port of the United States is the largest port of the US. It handles 80 million tonnes of cargo each year which is just 20% of Gwadar's future capacity.
Regional Political impact:
CPEC is called "Game Changer" by Pakistan and Chinese governments. Ruling Party Pakistan Muslim League (PML-N) in Pakistan considers the project the biggest achievement of the government and will go to get vote from people in 2018 elections by selling this project politically. This project will boost economy of Pakistan manifold and will gear industrial revolution within Pakistan.
Indian and Western viewpoint about CPEC:
The International Monitory Fund (IMF) has also warned that CPEC could add to Pakistan's medium- and long-term risks, predicting that the country's gross external financing needs would rise to $15.1 billion in 2018-2019 from $11.4 billion in the current financial year.
United States is looking at the CPEC as an early sign of the beginning of the end of its global hegemony on the economic front. Japan is worried that with the completion of CPEC any competitive edge that it currently has in world markets over China would simply disappear as while the physical distance between China and its markets would shorten by as much as 9,000km, its cost of producing exportable surpluses would as a consequence come down steeply.
India, on the other hand, is worried about the safety and security of its oil supplies that pass through the Strait of Hormuz at the mouth of which is located Gwadar, the entre-port of CPEC and where New Delhi fears in due course of time China may set up a Naval Base. India seems also concerned about the future of Chahbhar sea port that it is helping build in Iran along the Strait of Hormuz about 72 km from Gwadar for which it is contributing as much as $20 billion. It had perhaps wanted to deny Pakistan the Afghan and Central Asian markets through Chahbhar.
While the US and Japan still seem to be engaged in getting China to bog down in the South China imbroglio, India appears to have already finalized a stratagem to counter the self-perceived threats to its sovereignty and integrity emanating from CPEC. India boycotted One Belt Forum in China this year which was attended by 59 countries including USA, UK, Saudi Arabia, Russia and all South Asia countries except Bhutan and India.
Indian Prime Minister Narendra Modi during his speech at Lal Qila on August 15, 2016 openly declared his intentions to foment trouble in Balochistan believing perhaps that once an insurgency in the province heats up uncertainty that would engulf the region as a result would make it impossible for the CPEC project to take off.
India is objecting CPEC passing through Gilgit Baltistan which in its opinion is a disputed territory and claims that the region cannot be used for any purpose without prior permission from New Delhi. India fears that China would set up its military base in GB in collaboration with Pakistan making it doubly dangerous for India's occupation of Occupied Kashmir.
India also fears that once CPEC takes a final shape it would render the Chahbhar sea port redundant, its supplies of oil from Iraq, Iran and Saudi Arabia would become totally dependent on the good will of Pakistan and China and its plans to capture the Central Asian market would be nipped in the bud as China would be able to access in the shortest possible time the CA states through CPEC while India would be left with its round-about route going through Afghanistan which is still in the grip of a wasteful civil war.
Pakistan categorically blames India for injecting terrorism in Pakistan to dent CPEC project. Indian spy Yadev who was arrested in Pakistan in year 2016 testified in his video confessional statement that he was sent by India to destabilise Balochistan, Karachi and Punjab—- all core regions from where CPEC land route is going through.
Pakistan is installing over 15,000 special troops to ensure security of CPEC route from Sust Pak-China border to Gwadar Port. Pakistan Army takes the responsibility of protecting this prime project of China and Pakistan.
Regional experts believe that US policy shift in South Asia is directly linked with CPEC project and United States by making India as its "Strategic Partner" is trying to confine development in Southern China and blocking Chinese trade.
Experts believe that US can design a situation where Pakistan becomes physically engage with its arch-rival India, resulting losing its concentration on CPEC. India is increasing its presence on Line of Control (LoC) between Indian occupied Kashmir and Pakistani Kashmir and on Line of Actual Control between India and China in Sikkim region.
Indian forces are constantly violating seize-fire on LoC by firing small to heavy artillery towards Pakistan. However, Pakistan is refraining to lock with engage with India by knowing its (Indian) designs.
Since 2013 when One Belt One Road project was showcased, US engagement with India has increased while Pakistan is working to get support of Russia for making Eurasian bloc.
One can say that CPEC has altogether change the dynamics of the region.
Disappointment of Pakistan over US statement against CPEC
"Amir Taimur ruled the former Hindustan (understood as subcontinent) with artfulness and cleverness not only with sword", writes Alisher Navai—a popular poet, philosopher and politician of Timurid Empire. Alisher is considered as father of Gazl (A format of Persian, Uzbek and Urdu poetry) and a spiritual teacher of Zaheerurdin Babar—the father of so-called Mughal Empire.
According to a folktale of Central Asia, Alisher advised rulers of Samarkand and Herat that they can (could) win hearts of people of Hindustan with a polite smile and can win their land with meaningful threats. Alisher believed that people of Hindustan are (were) sentimental and reactive.
"If a powerful person smiles at them (people of subcontinent), they are happy for one whole month and if a powerful person threats them—they are worried about their future for next one month. Historians believe that Ẓahir-ud-Din Muhammad Babur extensively used knowledge of Alisher for ruling former Hindustan.
Today's Pakistan is part of former Hindustan and Pakistanis are really reactive in nature. We were sad and disappointed when US President Trump accused us for housing terrorists in August. We were very happy when US Vice-President held a meeting with our Prime Minister Shahid Khaqan Abbasi in September. And we were filled with joy when our Foreign Minister Kh Asif held meeting with Secretary of States Rex Tillerson in October and we believed that "Ice is melting". Now we are again disappointed when US General James Mattis said that US opposes CPEC.
Pakistan is disappointed because US General used same language that New Delhi is using against Pakistan. The statement of General James Mattis indicates that "Ice is not melting".
Should we not  do reality check in future before believing that Ice is melting?
Disclaimer:
This Opinion was originally published in Russian language. It has been translated by Dispatch News Desk (DND) monitoring team. The views and opinions expressed in this article/Opinion/Comment are those of the author and do not necessarily reflect the official policy or position of the Dispatch News Desk (DND). Assumptions made within the analysis are not reflective of the position of Dispatch News Desk.